Paul Pelosi's Assailant David DePape Found Guilty for Hammer Attack
The man who attacked Paul Pelosi at his home with a hammer last year just got convicted in federal court — and he's facing some serious time behind bars.
David DePape was found guilty of one count of assault on the immediate member of a federal official and for attempted kidnapping of a federal official. On the first conviction, he faces a maximum sentence of 30 years in prison and 20 years for the second.
The jury reached their verdict in less than a day — they started deliberations Wednesday afternoon, and came back with their decision Thursday morning.
DePape actually took the stand in his own defense for this case … and he testified that he never meant to harm Paul, and that he simply panicked when his plot didn't go according to plan. He claims he was simply there to talk to Rep. Nancy Pelosi about election interference.
Paul, of course, had a different take … testifying that DePape burst through his bedroom door that night and demanded to know where his wife was, with a freaking hammer in hand.
He also addressed the mysterious nature of the 911 call and the moment cops found both Paul and DePape at the entryway of the home … saying he knew he was in danger, and simply wanted to remain calm in an effort not to set off the intruder and risk harm.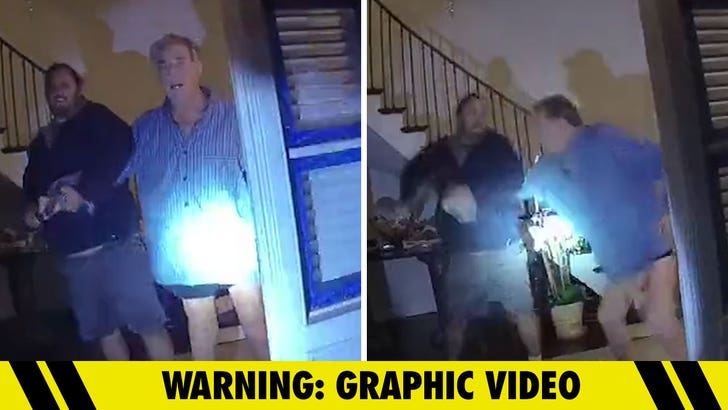 10/28/22
Of course, in the end … he was hurt, with DePape violently swinging his hammer at Paul as soon as he started to sense the jig was up — and Pelosi suffered serious injuries as a result.
Nancy wasn't home that night … and she decried DePape's attack against her husband as violent political extremism in real-time. In response to the guilty verdict, her team says the family is … "deeply grateful for the outpouring of prayers and warm wishes for Mr. Pelosi from so many across the country during this difficult time."
Paul has made a full recovery since the incident, and he's been by Nancy's side at a lot of events in the aftermath — including a public outing on Wednesday evening … where he, the congresswoman and others were hobnobbing with President Biden in SF to welcome Xi.
DePape has a state trial looming, where he's up against even more charges — such as attempted murder, burglary and assault with a deadly weapon. He's pled not guilty.


Source link